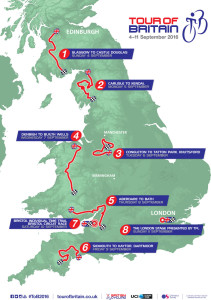 Britain's premier cycling event – the Tour of Britain – is coming to Congleton on Tuesday 6th September.
Congleton announced as start town for stage 3 of Tour of Britain
The town will host the start of day three of the tour, seeing some of the world's best cyclists set off on a 182 kilometre challenging leg around Cheshire East and finishing at Tatton Park.
Congleton Town Mayor, Councillor Elizabeth Wardlaw said: "This is fantastic news for Congleton! We are thrilled that some of the world's best cyclists will be in our town and that local people can experience a first-class sporting event on their doorstep. We look forward to working with Cheshire East, local groups, businesses and the Tour of Britain organisers to make sure this event is one that everyone can enjoy. We would like to think that hosting this event will inspire more people to try or to rediscover cycling for themselves either for fun or competitively."
The Town Mayor added: "With the Food and Drink Festival, Congleton Carnival, representing the North West in the Britain in Bloom competition and the 150 year anniversary of the Town Hall there's lots to look forward to and celebrate in Congleton this summer!"
Congleton Town Council hopes that local people will turn out in their thousands, as they did for the Olympic Torch relay (2012), the Commonwealth Baton event (2014) and the Mercian marches.
The Tour of Britain will once again be broadcast live on ITV4. There will be three-hours of coverage showing each stage plus a highlights programme. The 2016 Tour of Britain takes place between Sunday, September 4 and Sunday, September 11. It is the biggest free spectator sport and followed by millions around the world.
For more information about the Tour of Britain, visit: www.tourofbritain.co.uk and www.cheshiretourofbritain.co.uk